The Live Your D.R.E.A.M.S. Formula
How to live your DREAMS by taking the path of personal growth, positive well-being and high performance.
What is a curriculum in education?
In education, a curriculum is generally defined as a standards-based sequence of planned experiences to meet the school's instructional goals.
The purpose of a curriculum can be summarized in these four areas - to enable each person to be:
a successful learner
a confident individual
a responsible citizen
an effective contributor
Phase 1 -

The Research
There are 3 Main Pillars for our curriculum
Personal Development:
Personal development is a lifelong journey.
It's the conscious pursuit of personal growth by expanding self-awareness and self-knowledge, improving personal skills and capabilities, and maximizing your potential to enhance your life.
Mindset University identity's the following as the 6 Pillars of Personal Development:
Mental
Emotional
Physical
Spiritual
Social
Career
Positive Psychology:
Positive psychology has been described in many ways, but a commonly accepted definition is this:
"Positive psychology is the scientific study of what makes life most worth living" (Peterson, 2008).
Mindset University uses the PERMA+ Model created by Martin Seligman, who believes that these six elements can help people work towards a life of fulfillment, happiness, and meaning.
P – Positive Emotion
E – Engagement
R – Relationships
M – Meaning
A – Accomplishments
+ – Health
High Performance Habits:
The largest study on High Performance was done by Brendon Burchard with his book "High Performance Habits". It's a science-backed, heart-centered plan to living a better quality of life.
Brendon defines "high performance" as "succeeding beyond standard norms over the long-term." In other words, consistently performing at your best!
To become a high performer, you must:
Seek clarity
Raise necessity
Generate energy
Demonstrate courage
Increase productivity
Develop influence
These are the personal and social habits that are proven to help you excel and flourish in life.
Phase 2 -

The Creative Process
Using this research, the Live Your D.R.E.A.M.S. Formula was created!
Step 1:
D

ream big and seek clarity
Step 2:
R

aise your standards and be resilient
Step 3:
E

xecute and generate energy
Step 4:
A

dopt a courageous and confident attitude
Step 5:
M

easure your progress and master your skills
Step 6:
S

erve, inspire and influence others to live their dreams
Phase 3 -

The Results
After calculating the research using the Live Your D.R.E.A.M.S. Formula, the following curriculum emerged
Mindset University's Curriculum:
These Six Core Subjects are a combination of personal development, positive psychology and high performance habits. Each subject consists of 12 lessons that help you learn and develop the skills and capabilities to thrive, flourish and live your dreams.
Taking the path of personal growth, positive well-being and high performance goes through the following six courses:
Mindset Mastery
Students will learn how to identify their values, develop intrinsic motivation, increase self-awareness, create goals and develop a growth mindset so they can live their dreams.
Rising Resilience
Students will learn how to develop a resilient mindset, and the four key elements that we should focus on when we want to be more resilient (attention, thoughts, action, and motivation).
Exponential Energy
Students will learn how to develop and maintain healthy habits to maximize performance, generate more energy, gain mental clarity, reduce stress, and improve overall well-being.
Courageous Confidence
Students will learn how their mindset and self identity shapes their thoughts, feelings, actions and reality, how to increase their confidence, self-esteem, and motivation, and how to utilize positive emotions to drive productivity and emotional well-being.
Prolific Productivity
Students will learn various time management skills that work best for their personal lifestyle, how to properly reflect on their goals, how to measure their progress, stay disciplined, and how to maximize the benefits of journaling and self-reflection.
Legendary Leadership
Students will learn how to develop their leadership skills through gratitude and purpose, how to have a positive influence, and how to use empathy to connect with others and build better relationships.
Phase 4- The Innovation
As the journey continues, Mindset University combined Personal Philosophy with Positive Psychology Coaching to create "The Mountain Metaphor"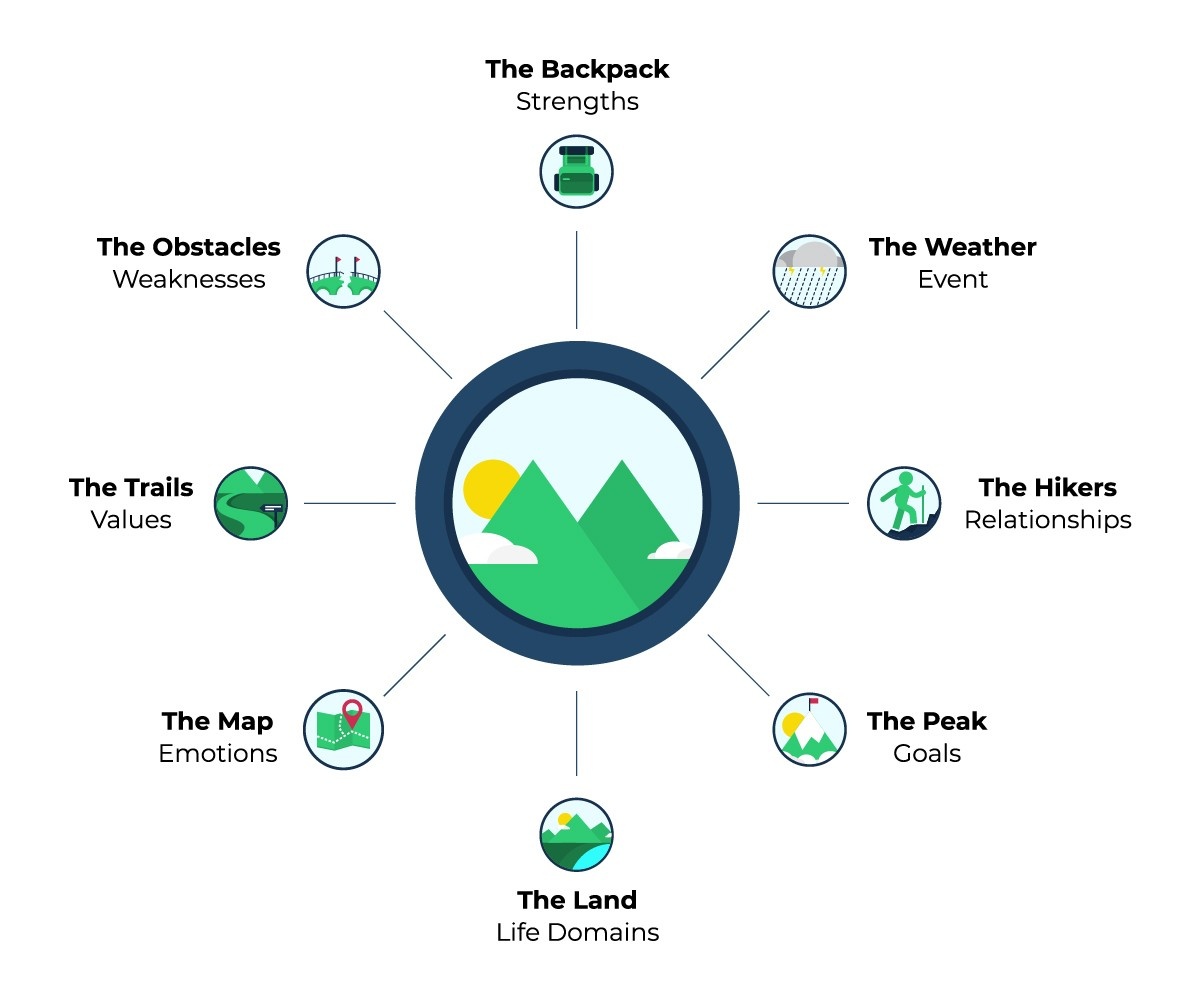 The Mountain Metaphor:
The Mountain Metaphor is a mental framework (mindset) to help you navigate life, maximize human functioning and increase overall well-being.
To learn more about the Mountain Metaphor and how it works, download our PDF Guide here!
Join Mindset University's Monthly Membership!
Every month you will learn different lessons based on our curriculum from above. Let Michael Berezny guide you to a better year of more joy, confidence and success in 2021, all year!